New Charter formed in 2000 as the new landlords to own and manage homes transferred from Tameside council in Greater Manchester. With a turnover of approximately £100m a year and a workforce of around 1,000, New Charter is one of the region's largest registered providers of social housing. By incorporating Gedling Homes and Aksa Homes the Group owns around 19,500 homes. It came 8th in the 2015 Sunday Times 100 Best Not-For-Profit Organisations To Work For survey.
New Charter also sponsors three academies through its Great Academies Education Trust. This includes two secondary academies (New Charter Academy in Ashton and Copley Academy in Stalybridge) and one primary (Silver Springs Academy in Stalybridge).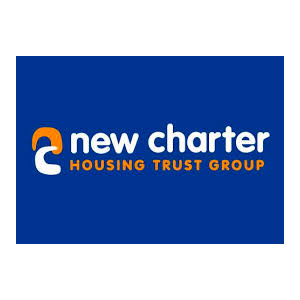 The Challenge
The organisation has recently undertaken a full review of their safeguarding policy and procedures. They have introduced a safeguarding advisors model that consists of a number of staff and were looking for new ways to develop the model. They were adopting a model where there was a safeguarding strategic group within the Directors' Team, a new performance framework and a two-tier training programme. Directors will receive monthly reports on cases and liaise with the advisors.
Last year they held an Open day event to raise the profile for volunteers to undertake the safeguarding advisor role. Appropriately Approximately 50 staff showed an interest and they had potentially 40 staff they would like to train to undertake this role. A survey monkey was completed with them and a safeguarding advisor role description was produced.
The key challenge was to provide the advisors with the confidence to deal with a safeguarding case. They have all attended basic training on safeguarding, but this was not enough for them to undertake the role. Furthermore needed, was to be able to confidently assess and present at safeguarding meetings, as well as to challenge and learn from each other and referred cases. As an organisation New Charter must have in place, acceptable and defensible practices when referrals are returned by the Local Authority.
The Athena Solution
Athena designed a one-day training course delivered to two groups on different days that included a variety of learning approaches which were participative, safe and interactive. There were opportunities for discussion, individual and group activities and reflective practice.
Using Athena's wealth of training resources and writing a bespoke course based upon New Charter's internal policies and procedures. The course content thoroughly covered safeguarding children and adults at risk including the Mental Capacity Act and Deprivation of Liberty. It also included examining the roles and responsibilities of the 'safeguarding advisor' and other safeguarding partners. As well as an understanding and commitment to a safer culture and a risk management culture, ending with taking time for action planning for ownership of a communications strategy and embedding the new safeguarding advisor's structure.
The Outcome
The training was delivered in a very open and transparent interactive manner that allowed the participants to undergo a reflective process. The key outcomes were that the participants felt confident to fulfil their role and they were able to utilise their existing skills as the safeguarding advisor. Everyone in the organisation felt happy that they were making a difference.
On both days the trainer and the participants raised many organisational challenges that were fed directly back into the organisation as part of a 360-degree feedback process.
Yvonne Campbell, Business Change Manager (Business Transformation) said,
"From start to finish, Athena was great in their support. The training was exceptionally delivered and couldn't do enough to support New Charter in delivery. This has enabled a high number of Safeguarding Designated Advisors to feel confident in this role; we would highly recommend Athena whatever stage you're at in your safeguarding review/refresher for your people"